Your group of 15 or more can get a taste of what Colonial Williamsburg has to offer with an experience designed to fit the requirements of day-trippers, groups on tight schedules, or those who want a structured experience. Stay at one of our official Colonial Williamsburg hotels and you will have a choice of premium, deluxe, and value accommodations, all just a short stroll to the Historic Area. Plus, you will enjoy Exclusive Guest Benefits—reduced pricing for admission tickets to the Historic Area and museums, preferred reservations, and more.
Choose from a half-day, one-day, three-days, or annual ticket package. You may choose to have a Customized Guided Tour or explore on your own with our Self-Guided Tour option
Adult Day-Group Admission Tickets
Half-day Pass
Adult $22
Youth $12.50*

Enjoy four hours sampling some of the best of the Historic Area. Tour the Governor's Palace, Capitol, or Raleigh Tavern and learn of the debates that raged in the years leading to independence. Visit a trade shop or historic house and discover something about the everyday life of Williamsburg's 18th-century residents. Choose from any of the exhibition sites open during your visit and take part in scheduled programs.
Tickets provide morning access (9 a.m. - 1 p.m.) or afternoon access (1 - 5 p.m.). See "Colonial Williamsburg This Week," our weekly program guide, for a full schedule of building openings and Historic Area programming.
One-day Group Ticket
Adult $35
Youth $18*
This ticket offers your group a taste of the Colonial Williamsburg experience. It provides access to Historic Area programming and exhibition sites (including the Capitol and the Governor's Palace), and museums.
Multi-day Group Ticket
Adult $40
Youth $21*
(Valid for 2 consecutive days)
The Multi-day Ticket provides full access to Historic Area exhibition sites (including the Capitol and the Governor's Palace), museums, and Historic Area programming.
Group Annual Pass
Adult $74.99
Youth $41.99*(ages 6-12)
This pass lets you explore all that Colonial Williamsburg offers during your stay and the flexibility to return any time for a year. This pass allows access to all daytime programs, museums, and exhibition sites, the Capitol, the Governor's Palace, and Historic Area programming.
*Youth rates apply for those who are 6-12 years old. Reservations required for all day tours and group packages.


For more information, call 1-800-228-8878 or email groupsales@cwf.org
Pricing effective from January 1 - December 31, 2020.
Adult Group Ticket Reservation & Deposit Policies
Adult Group Tours - $50 deposit per interpreter
Adult Group Admission Ticket- $50 deposit
Evening Programs - $200 deposit per program
ADMISSION TICKETS/ EVENING PROGRAMS:
Deposits are required within 14 days of receipt of confirmation. The deposit will be applied to your bill at the time of payment.
The deposit is fully refundable if written cancellation is received 7 business days prior to arrival.
Services will be billed in full if written cancellation is not received 7 business days in advance of programs.
If the deposit is not received by the required date, all reservations will be canceled.
FINAL NUMBERS/ CHANGES/ CANCELLATIONS:
Admission Tickets / Evening Program changes / cancellations for the guaranteed final number of attendees will be accepted up to 7 full business days prior to the group's arrival date, Monday through Friday 8:00AM - 5:00PM.
If  changes or a complete cancellation is received in less than 7 business days of the arrival date, the group will forfeit their deposit.
All cancellations must be received in the School, Youth and Adult Day Group department for admission tickets and evening programs.
Reservations required for all day tours . Please check in at the Group Arrivals Building located next to the Colonial Williamsburg Visitor Center. Wheelchairs may be rented at the Visitor Center.
For more information, call 1-800-228-8878 or email groupsales@cwf.org
Make Your Own Kind of Music
Music during the 18th-century crossed all social lines to provide accompaniments for work as well as entertainment. Music groups of 15 or more are permitted at specific Colonial Williamsburg public locations. Year-round venues include Merchants Square, adjacent to the Revolutionary City, and the Colonial Williamsburg Regional Visitor Center. Leave here with memories and stories about the past that last long into the future.
Ask about our special performer pass.
Admission passes and reservations are required to secure performance venue. Call us at 1-800-228-8878 or email groupsales@cwf.org
Adult Group Visit Information
Looking for information about dining or lodging options, or opportunities for evening activities? Whether you are visiting for three hours or three days, we will work with you to tailor your visit to your unique group's needs.
Learn More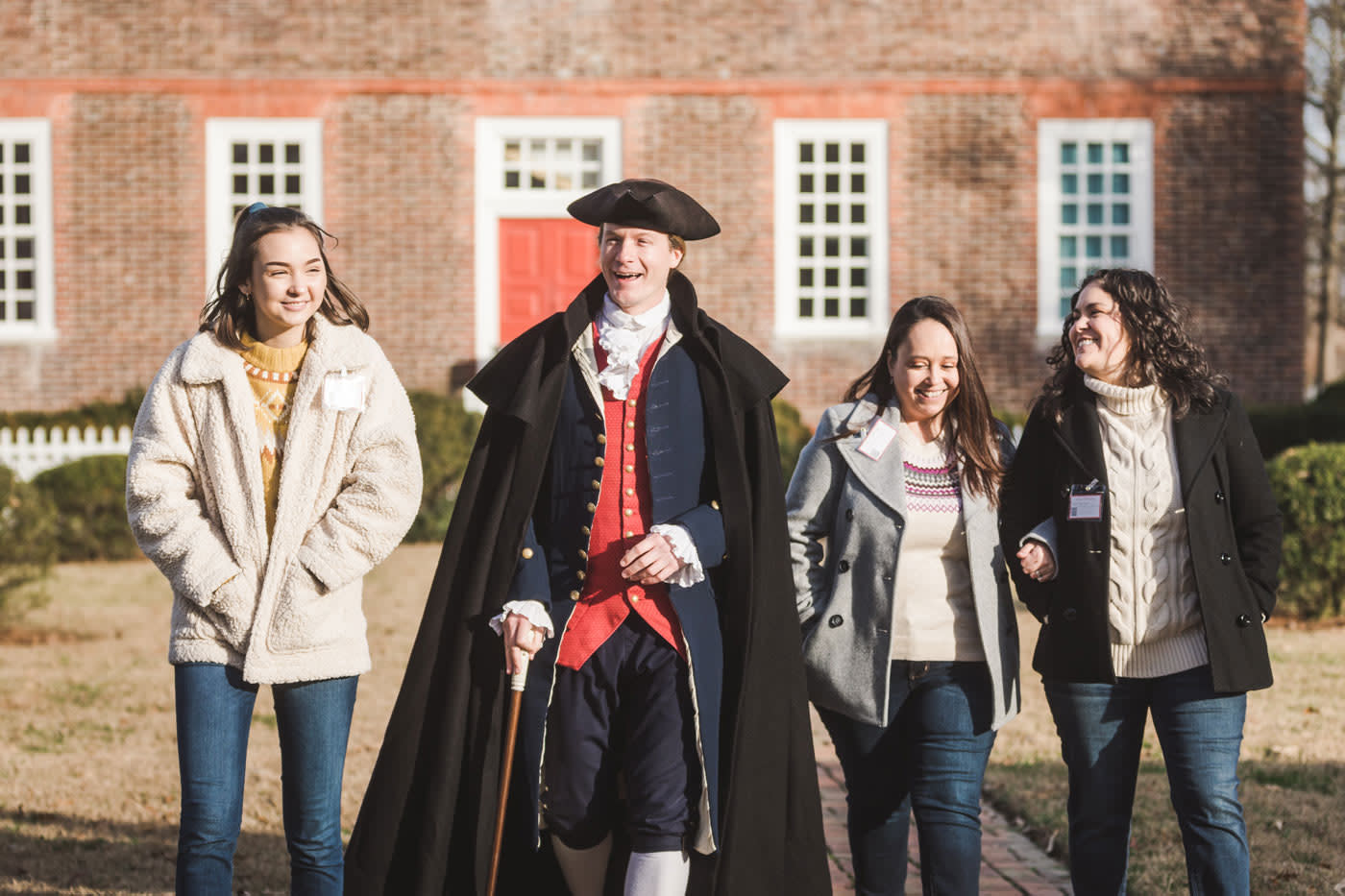 For more information on Customized Guided Tours or to make reservations:
By mail:
School, Youth & Adult Day-Group Sales
Attention: Group Arrivals Building
Colonial Williamsburg Foundation
Post Office Box 627
Williamsburg, VA 23187-1776
For more information, call 1-800-228-8878 or email groupsales@cwf.org

Programs and prices are subject to change without notice.  Pricing effective from January 1 - December 31, 2020.