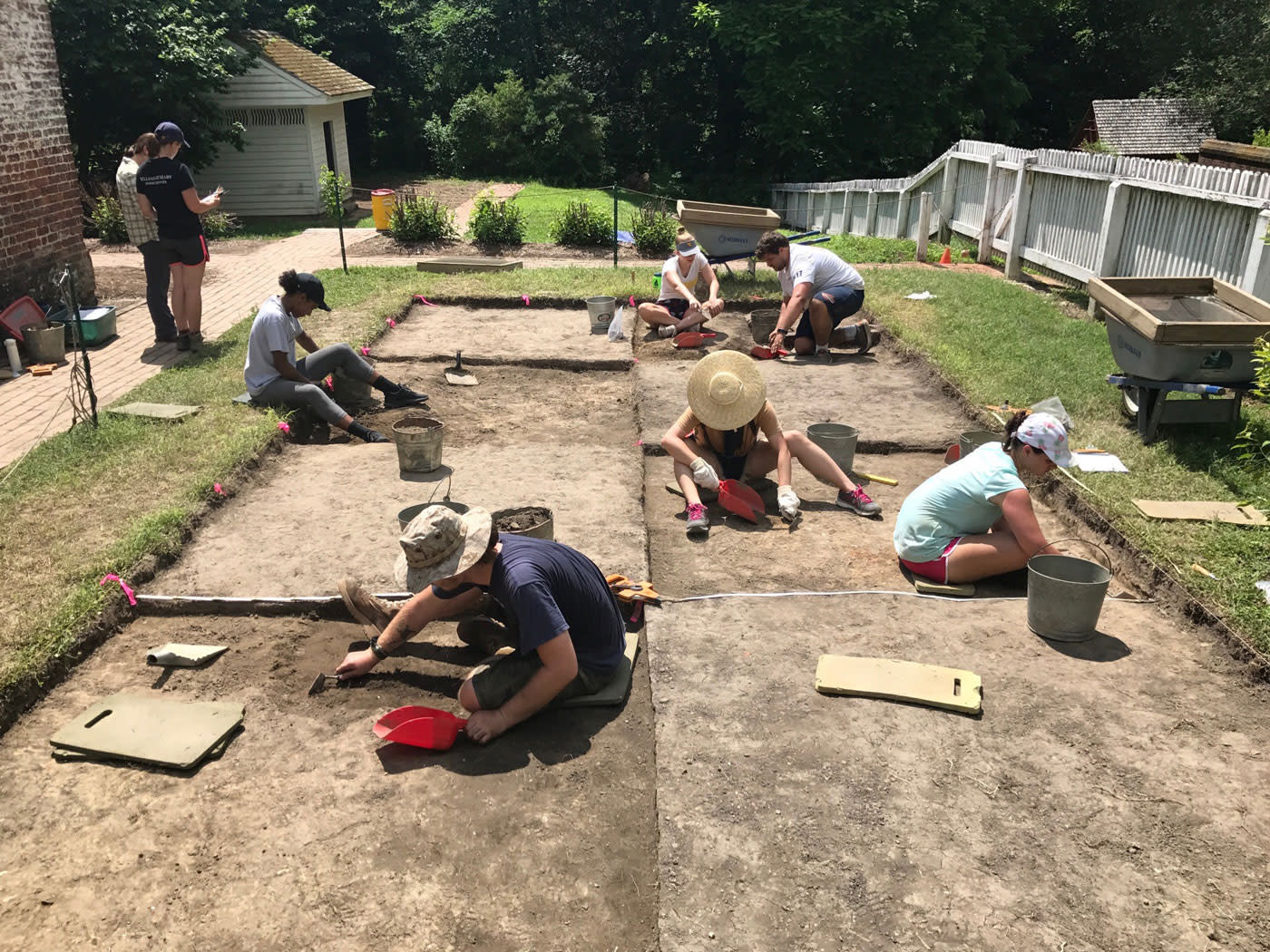 Colonial Williamsburg 2020 Public Archaeology Institute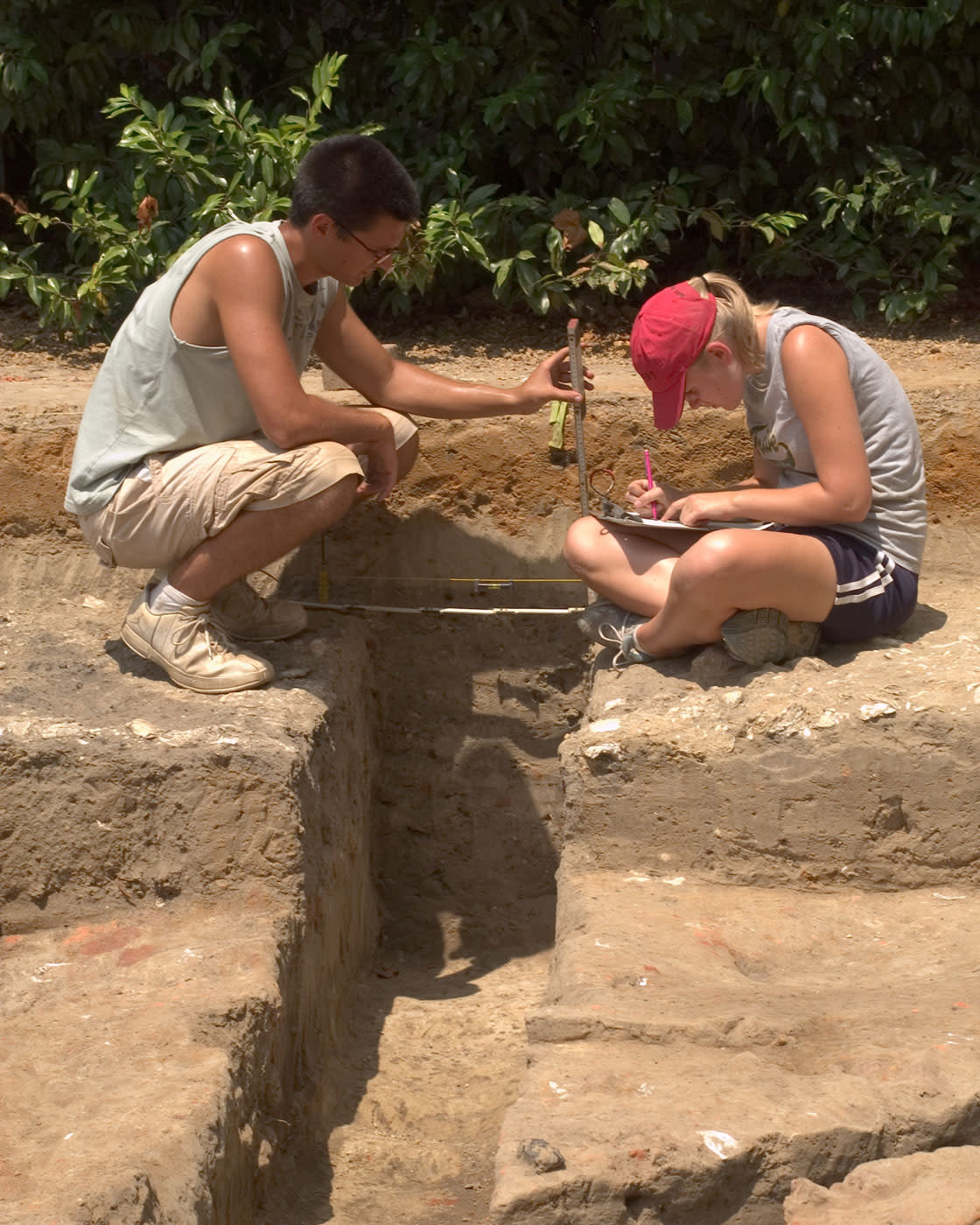 Program Overview
This summer, the Colonial Williamsburg Department of Archaeology introduces the Public Archaeology Institute (PAI). This unique program invites students, entering grades 9-12, to work alongside archaeologists in the field and explore the connections between documentary and archeological evidence, and how they work together to convey a unified interpretation in a public history setting.
In each session of the PAI, students will receive approximately six hours of "class time," during which a history of Custis Square and Williamsburg's Public Hospital will be examined along various artifacts types, including ceramics, architectural materials, faunal remains, and small finds. Students will spend the remainder of the week practicing archaeological field methods, site recording, and interpretation of findings through hands-on field work and speaking with visitors. The week will conclude in a site tour showcase, in which each student will guide one archaeological site tour for visitors, family members, and friends. Each 30-minute tour will discuss the site's history, project objectives, and observations made in the field. Certificates and PAI t-shirts will be awarded upon successful completion of PAI learning objectives.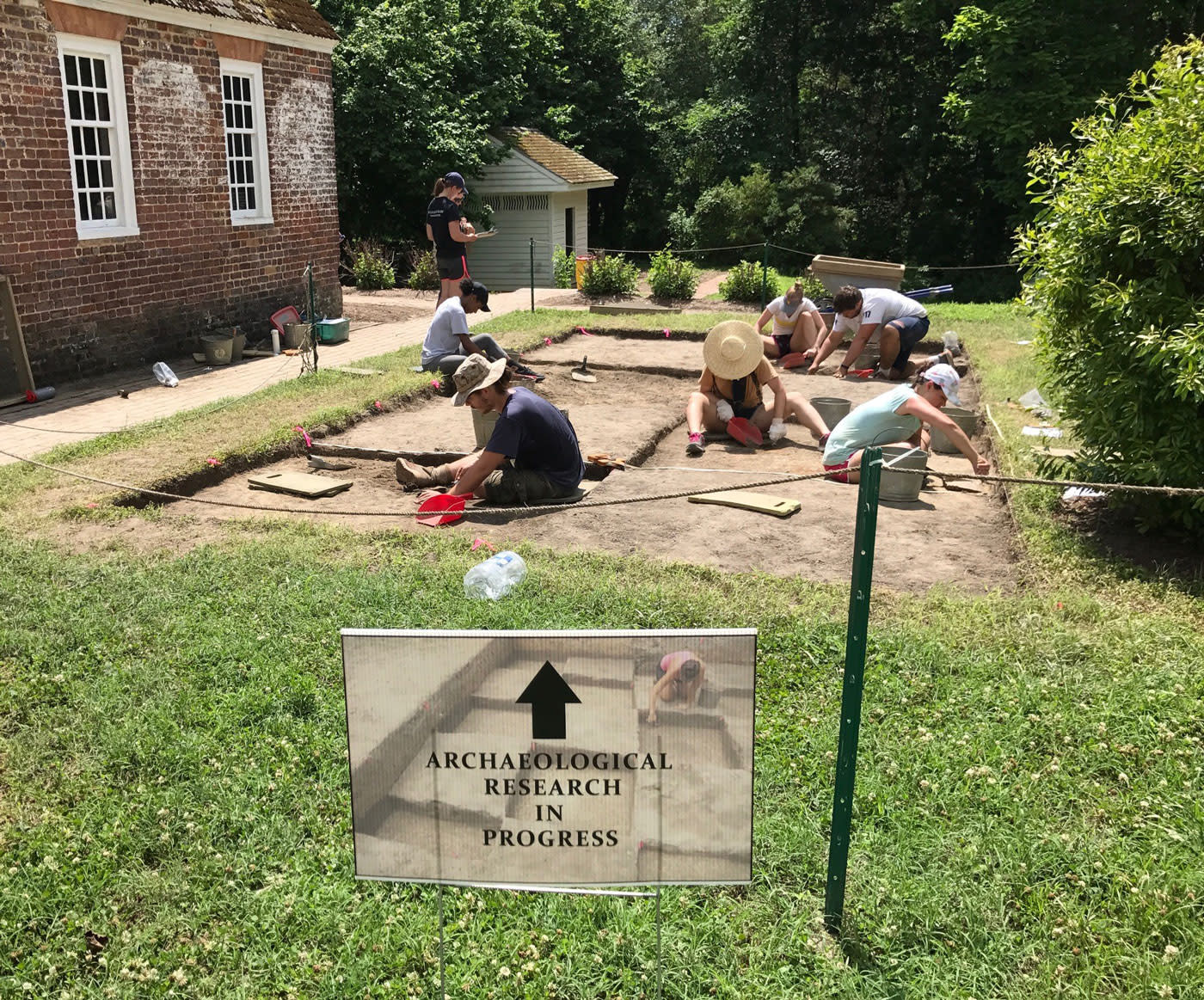 PAI Learning Objectives
Discover the important role of archaeological research at Colonial Williamsburg and other public history sites.
Learn basic archaeological field techniques, including site excavation and recording methods.
Gain an understanding of what archaeologists learn from artifacts and their contexts.
Synthesize documentary and physical evidence to create a cohesive overview of the project.
Speak with the public about the site's history and project objectives on a one-on-one basis and as the leader of group tours of the archaeology site.
Eligibility Requirements
Applicants must
Be entering grades 9 or 10 to participate in Session 1 or entering grades 11 and 12 to participate in Session 2 of the 2020 PAI.
Provide their own lodging and meals for the duration of the program.
Participate in the entire 5-day session in order to receive certificate of completion and PAI t-shirts.
Come prepared each day with a packed lunch and personal water bottle. Snacks and additional water will be available as needed.
Be prepared to use a shovel, kneel comfortably for extended periods, push and empty wheelbarrows weighing up to 50 lbs.
Be prepared to perform work in temperatures in excess of 90 degrees, taking breaks as needed.
Be actively committed and willing to complete the assigned project.
2020 PAI Session 1
Students entering Grades 9 and 10
Tuesday, July 14 - Saturday, July 18
8:30am-4:30pm
2020 PAI Session 2
Students entering grades 11 and 12
Tuesday, July 21 - Saturday, July 25
8:30am-4:30pm
How to apply
To apply, follow the link below. Students accepted to the 2020 PAI will be admitted at no cost to the student. Deadline for applications is April 1, 2020.
Submit application materials to cwarchaeology@cwf.org with the subject heading 2020 PAI by April 15, 2020. Applicants will be notified of acceptance by May 1, 2020.
For questions regarding the 2020 PAI program or application process, please contact Crystal Castleberry at ccastleber@cwf.org.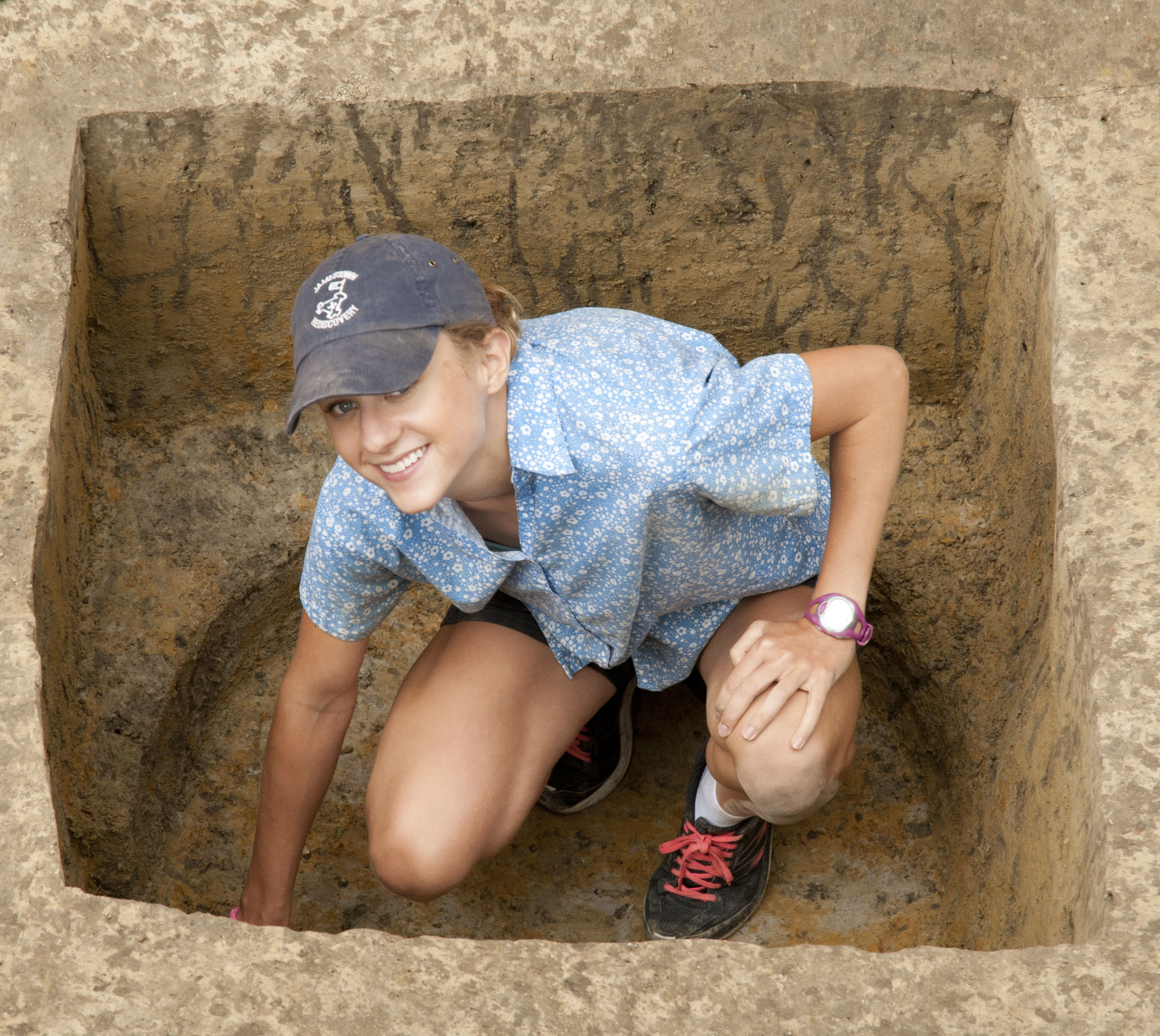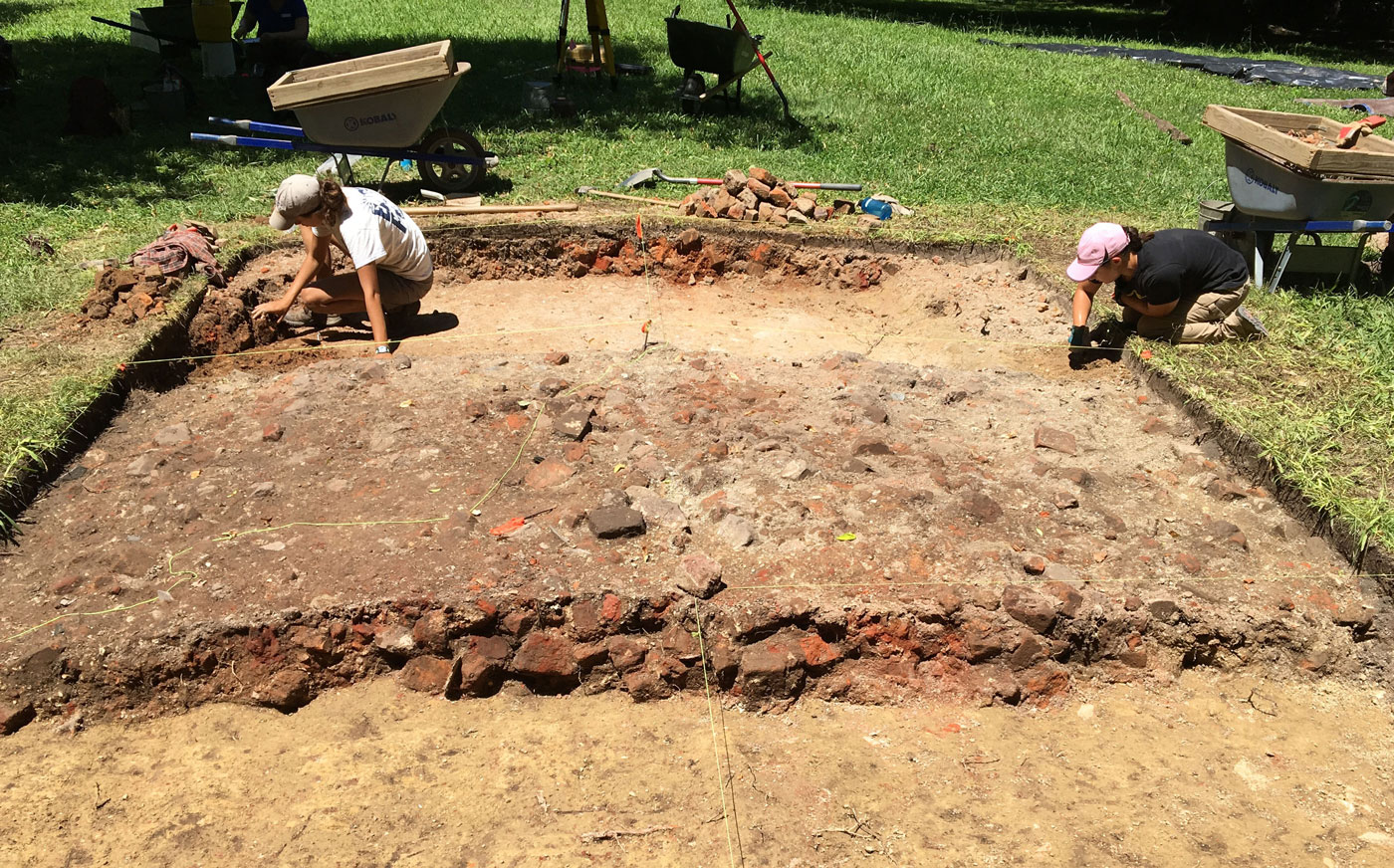 For more than 30 years, College of William and Mary students have learned excavation techniques and recording, as well as the identification of common eighteenth-century artifacts at Colonial Williamsburg field schools.
Information about our summer 2020 program coming soon. Email Eric Schweickart at eschweicka@cwf.org to be notified when more information is available.