Pharmacy student relays her experience in historic apothecary trade shop
As a fourth-year pharmacy student at Campbell University who enjoys participating in Revolutionary War living history events across the state of North Carolina, studying the history of pharmacy at Colonial Williamsburg seemed like the perfect fit for some out-of-classroom experience.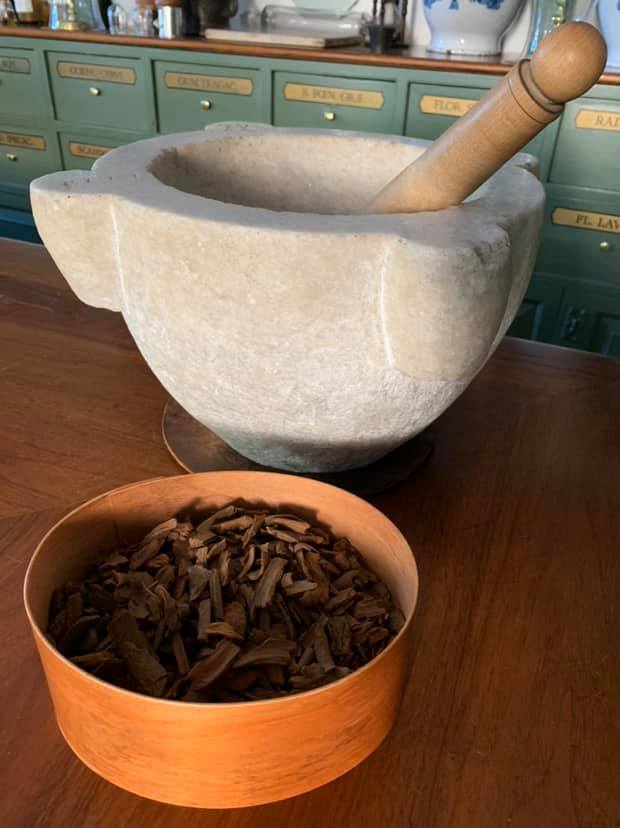 The apothecary building where I spent my rotation was built on the original 18th-century foundation, and is the same dimensions and layout as the original shop. I donned 18th-century clothing alongside Robin Kipps and Sharon Cotner, who have studied 18th-century medicine and portrayed apothecaries in the 1770s for more than 30 years.
My experience was significantly focused on the "business" and social aspects of pharmacy. I was able to read original pharmacy compounding books, letters from the apothecaries to their supply companies, and local newspaper advertisements for the shop.
It was very interesting to immerse myself in the history of pharmacy as well as educate Colonial Williamsburg guests about 18th-century and modern pharmacy. Kipps, who served as my preceptor, and I engaged guests in the shop by sharing facts about the beautiful and original 18th-century apothecary jars.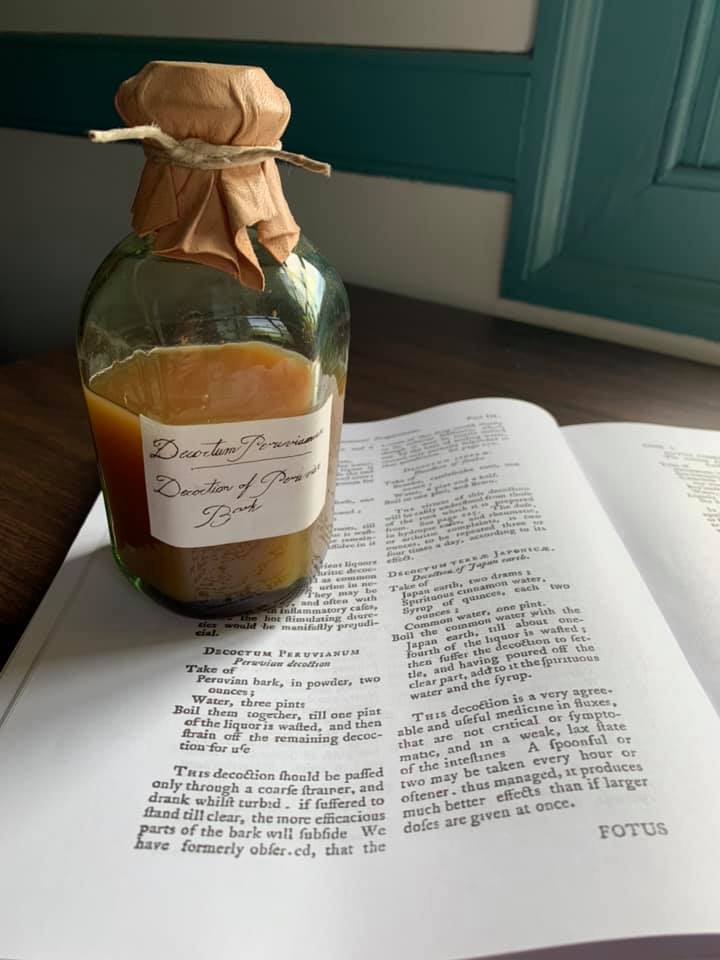 Our favorite thing to do was compare 18th-century pharmacy to modern day pharmacy. Pharmacists in the 18th-century were referred to as doctors and could see patients and prescribe medications just like physicians. Physicians were trained at universities in London and Europe, and apothecaries were trained to diagnose, compound, and perform surgery through a seven-year apprenticeship. Some were even midwives. There were no pharmacy schools at the time, and Kipps has only discovered one record of a female apothecary in colonial America, a woman who happened to be married to an apothecary. Men were the ones completing apprenticeships, mainly because knowing Latin was a requirement and young boys were more likely to learn it.
I thoroughly enjoyed the compounding aspect of this rotation. I was able to use weights and techniques that I haven't been taught in pharmacy school to do things like hand roll pills on a pill tile. I was also able to see if 18th-century medications had any modern use, and share those results with the guests in the shop. Most of the guests really enjoyed the visual aspect of the shop, such as the antique jars and visible medications. One of my favorite medications to show to visitors was the "cardiac troches." This consisted of ground oyster shells, chalk, sugar, and nutmeg. These contain calcium carbonate and are antacids. Many of the guests could relate these to modern day TUMS antacids.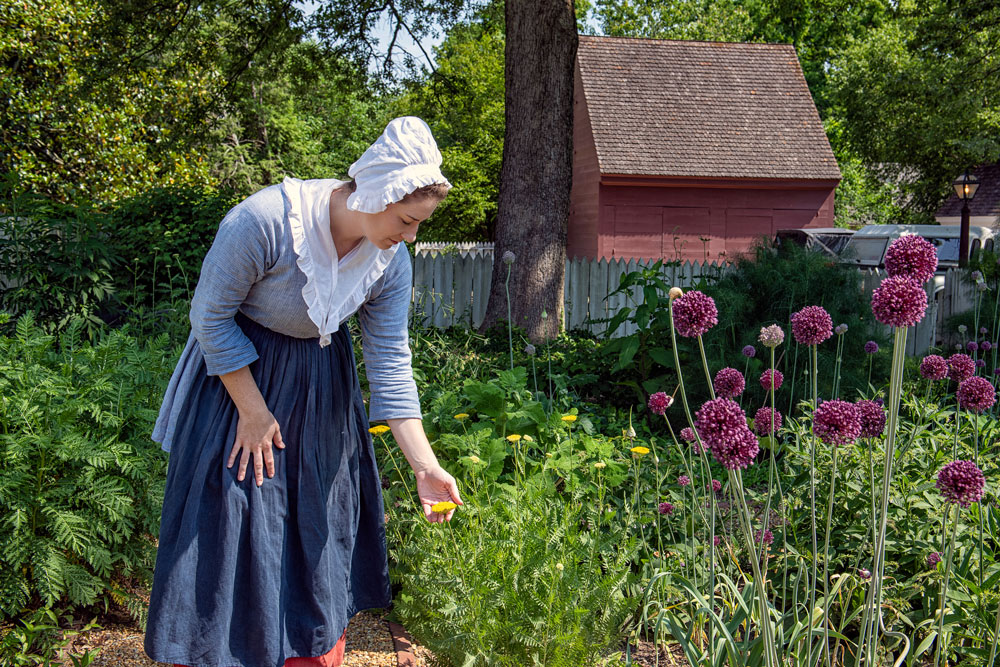 There is a study garden behind the apothecary and we used the variety of plants to make period-correct medications. One example of this is oil of chamomile. We were able to use the chamomile flowers and follow the period compounding book to make the oil. We also made a tincture (alcohol base) and decoction (water based) formulation of Peruvian bark. This was used to treat "intermittent fever," or what we know today as malaria. The bark contains quinine and is probably the closest thing to a cure in that time period.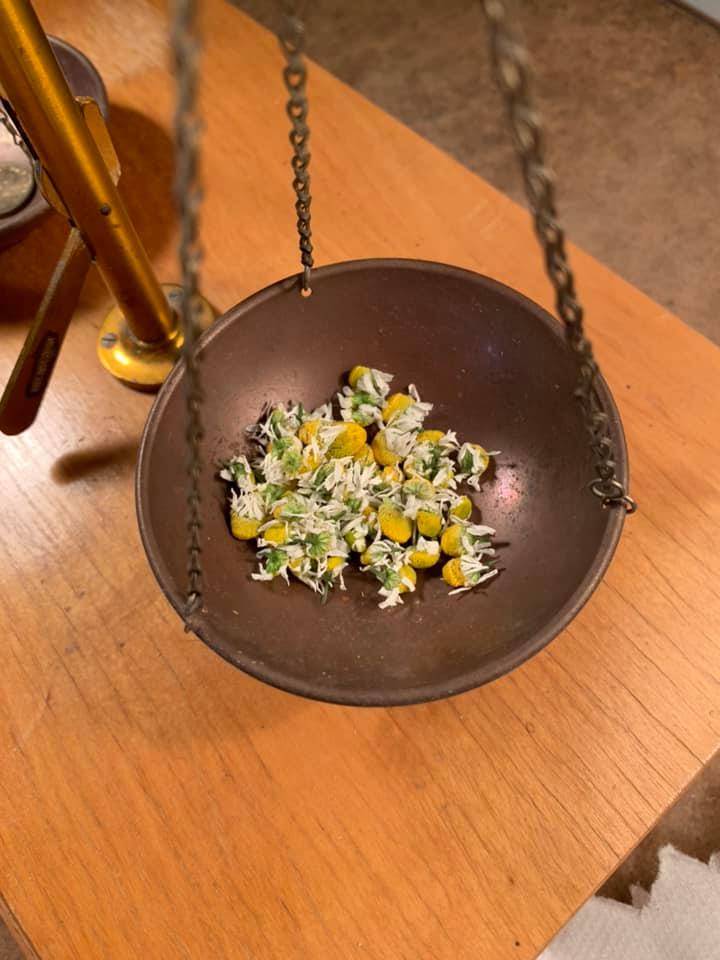 This was an amazing experience, especially for someone who has an interest in the 18th century. Mrs. Kipps and Mrs. Cotner possess a wealth of knowledge, and I am so grateful to have had the opportunity to learn from them. Being able to learn about pharmacy in the latter half of the 18th century was like a dream come true. One of my favorite things that I learned was the motto of an apothecary from a source written in 1747. The motto is in Latin and states, "Opiferque per Orbem dicor," which translates as, "I am called for help throughout the world." This phrase really stuck with me, and I feel like it shows the value placed on the pharmacy profession, even 250 years ago.
Chenoa Shelton is a fourth-year student in the College of Pharmacy & Health Sciences at Campbell University. Shelton, who enjoys participating in Revolutionary War living history events, interned in the Apothecary Shop this summer.